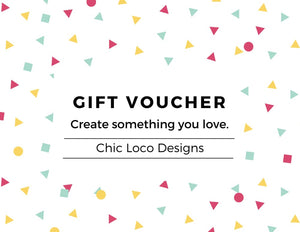 Gift Cards
Gift cards are the perfect gift!

You cannot really go wrong with a Chic Loco Designs gift card! We offer a wide range of products including coffee mugs, stainless steel tumblers, earrings, hats, custom wood signs, and custom apparel. 
We all have so many things going on in our lives, but because our lives are so full, there are so many milestones to celebrate. It can be challenging to find the perfect gift for someone. More times than not, I personally ask for gift cards for products I would like to pick out myself. If they are larger ticket items, I just ask for money or gift cards to go towards the larger ticket item. I am sure your gift card recipient rather pick out their gift so why not surprise them with a truly custom gift from Chic Loco Designs.  
Gift ideas for anyone!
New years gift

Birthday gift

Christmas gift

Mother's Day gift

Father's Day gift

Housewarming gift

Realtor gift

Home Buyer gift

Builder gift

New baby gift

Babyshower gift

Wedding gift

Wedding Shower gift

Bachelorette gift

Bachelor gift

Party Host gift

New Business gift